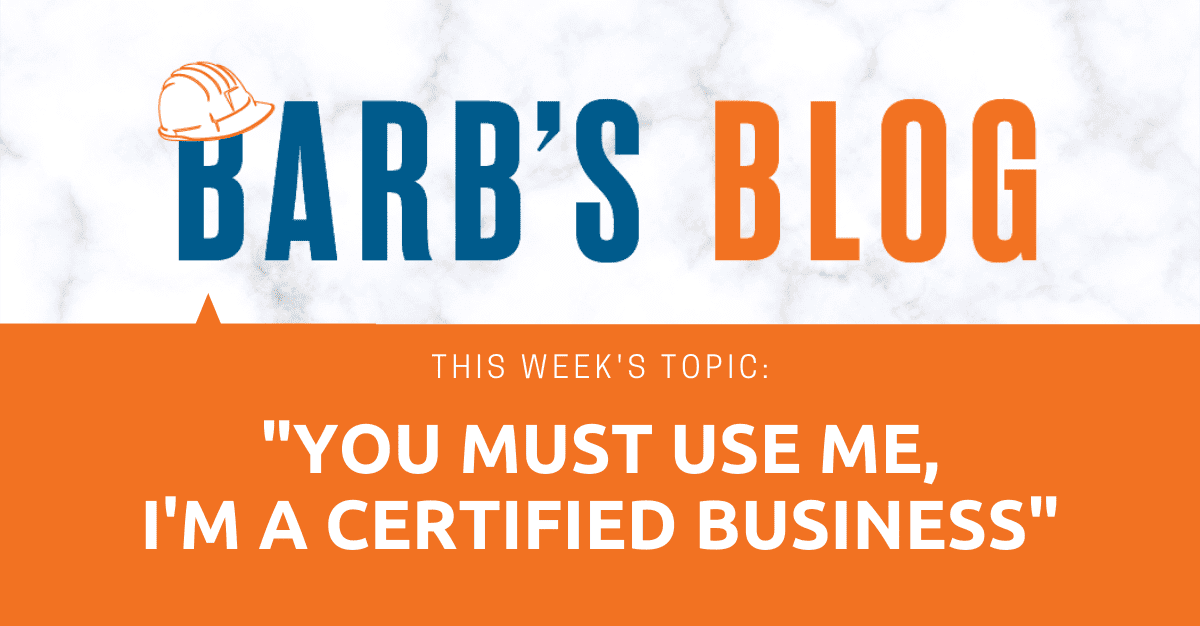 "You must use me — I'm a certified business!"
I have heard this phrase way too often in the past 13 years. I work hard to train Association of Women Contractors (AWC) members about what certification means and what it doesn't mean. I cringe when I hear "but I'm certified so you need to use me". False — so let me set the record straight. Being certified does not guarantee you will get a contract. And you can get contracts even if you are not certified. 
Let's start with the basics here in Minnesota. Certifications are entity specific and, except for WBENC (Women's Business Enterprise National Council) and NCMSDC (North Central Minority Supplier Development Council), getting certified is free of charge. Certification is important only if you are going to be working on projects where being certified helps to meet goals. When AWC consults with women or minority owned businesses around certification we ask the following:
What type of work do you perform?
Who are you currently working for? – project owners.
What is your growth plan? – Who do you want to work for that you aren't?
Once we understand your specific needs, we can recommend a path to you. 
Entities set subcontracting goals on publicly funded projects. Minnesota is a low bid state, so the contractor that is awarded the project must be the lowest bidder. I'm going to use a Disadvantaged Business Enterprise (DBE) and project as an example, but rules are similar across the agencies with small, nuanced differences.
The OWNER sets a DBE goal specific to the project. The DBE goal is a percentage of the total contract value awarded to a DBE. The goals are intended to level the playing field so that a contractor must utilize disadvantaged business enterprise (certified DBEs). Contractors are required to either meet the goal or show that they made a good faith effort to meet the goal in their bid. Contractor solicits bids from Subcontractors and notes what the goal is. During the solicitation process the goals are clearly stated. The Contractor submits their total bid noting the DBE contracting % and where it lands compared to the goal set.   
DBEs bid their scope of the project. To be selected as a subcontractor on the project the DBE should still be the lowest responsible bidder. What does that mean? The bidder must fully comply with all the bid requirements, and their past performance, reputation and financial capability is deemed acceptable with the most advantageous pricing or cost based on the criteria in the bidding documents.
Basics include:
DBE's bid submitted needs to be the low bid or at least within a reasonable amount of the low bid.
DBE's bid must include all items required in the spec – this means no missing line items without communication with the Contractor first.
DBE must have the required insurance coverage and bonding as required by the contract.
If you are bidding to a union contractor, you need to be a union DBE or willing to sign a PLA if applicable on the project.
Your bid must be received on time and fully complete.
DBE must be "ready willing and able" which refers to the ability to complete the tasks on schedule and have the necessary equipment and workforce.
Goals on a project are intended to level the playing field for fair competition.  It does not give any entitlement to being utilized on a project because of your certification status.  I know many members that are certified and are awarded projects based on their performance and not on their certification status.  WE recommend that this is what you should strive for. Your certification status is important, but it is NOT a reason for being awarded the project. 
I have been monitoring public goal projects and sitting on committees to find solutions for more inclusive language and contracting practices. This blog is centered on the RULES and process. I know full well the number of games that are played by the contractors, the barriers faced by the certified businesses, and the unfair practices directly leading to the failure of certified businesses. I will address specifics in future blogs but without understanding the rules of certified business inclusion first the subsequent blogs won't make sense.    
— B
This is part 1 of Barb's certification series.
Click here to read part 2: "Which Certifications do I Need to Get?"