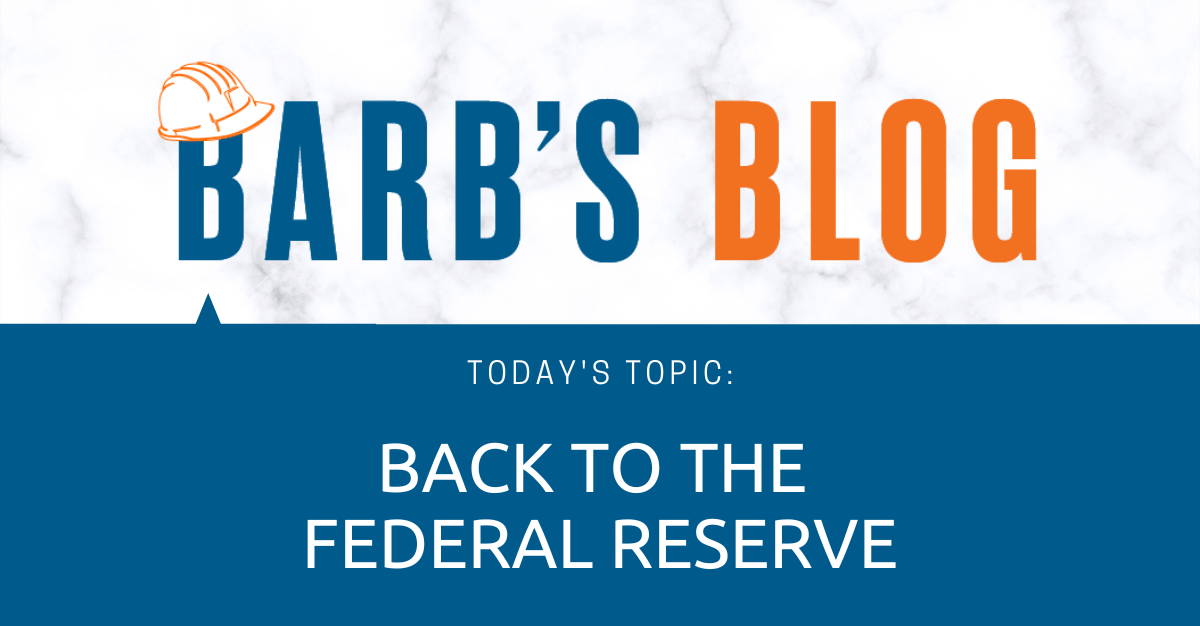 Back to the Federal Reserve: Community Advisory Council Reunion
One of my career highlights to date was my term serving on the Federal Reserve Board's Community Advisory Council (CAC). I met some of the most accomplished leaders and was able to give feedback and advice on issues affecting business, labor and the economy.
I applied during a professional "mid-life" crisis. I wasn't feeling challenged and wondered if I could have a bigger impact.  I literally googled "councils" and found the call for applicants. I thought it was a shot in the dark and figured at least I updated my resume. I received a call saying I was selected for a term on the council. There were 350 applicants from all over the country for 5 open seats on the CAC. My response "Why did you select me?"  "Because you have business and particularly women business insight".
The role of the CAC is to give input to the Federal Reserve Board of Governors. You receive several questions and work on answers from your, and your community's perspective. Those first questions were daunting – some specific banking jargon and policy/regulatory questions. I called Terri Banaszewski AWC's member with Sunrise Bank and asked her to give me a tutorial. Thank you, Terri, for making me feel more comfortable. As for the business questions, I reached out to our membership, Meda, AGC and other partners for input.
May 4, 2018 – I am sitting in the Board Room at the Federal Reserve in Washington, the same room that FDR and Winston Churchill used to strategize in during WWII. I am speaking to Chair Jerome Powell and the other Governors on business issues. Yes, I was terrified and then it was over. By the October meeting I had my footing and my voice. The support of the other CAC members was incredible. I met many colleagues over the 8 council meetings (virtually in 2020) and some great leaders I now call friends.
Fast forward to April of 2023. The Federal Reserve was bringing back all the CAC alumni to DC for the May meetings.  I was on a plane May 17th for a CAC reunion.  We kicked off with a reception at the new Federal Reserve Building. Formal networking with the Governors and remarks from Chair Powell followed by relaxed networking and catching up. We discussed labor shortages, and what we are seeing in our markets. We discussed construction programs and how to increase women and BIPOC participation and how to identify and solve the barriers for different groups.
On May 18th, we shuttle again to the Federal Reserve Bank and have a business breakfast. Then we were in the audience while the new council members sat in our old seats giving the report to the Board of Governors. It was great to be in that room again, and even better to be an observer this time around.
Lunch was a round robin of questions to the alumni. I listened and learned from my colleagues about the focus areas of low- and moderate-income individuals, low-income housing, homelessness, and the need for immigration reform to fill the labor shortage we face. At the urging of another alumni, I took the mic and addressed a question by the council on small businesses coming back to urban cities.
I tell them that first small businesses were wiped out by the pandemic in restaurants and retail, and they can't just start again. In our industry I had told the Governors in 2020 that while construction was essential that we would need assistance later. I now told them how assistance didn't come. The COVID relief funds never made it to small businesses paying out of pocket from pandemic fall out. How I watched small businesses sell homes, refinance property, take out business loans and even sell retirement to pay for the price escalation and supply chain fall out.
Secondly the murder of George Floyd caused devastation to the Twin Cities' two most culturally diverse small business corridors. Those businesses were decimated, and the business owners lost everything. Most were denied insurance claims as riots weren't covered. Other monies had so many restrictions and red tape that many didn't get help. These entrepreneurs can't just start another business.
And now we are asking small businesses to return to urban areas. I explained how we went from over policing to under policing and the crime has skyrocketed while we have tied the hands of law enforcement. Small businesses are closing due to theft, car jackings and thefts in parking lots, and crime outside the business doorsteps keeping customers from feeling safe. I watched colleagues feverishly take notes, nod, and ask more questions. Again, my confidence grew.
This trip was more about connections with each other, than bringing the message of AWC to the Board of Governors. It reinforced the impact of professional boards and councils. It made my voice louder and increased my confidence. The connections with colleagues outside your circle bring you knowledge you can't fathom. If I need resources with a broader perspective, I have a circle to draw on and they on me. My advice to you is take a chance and go after something you hadn't thought of.  The value you bring may be as much as you take away.
— B